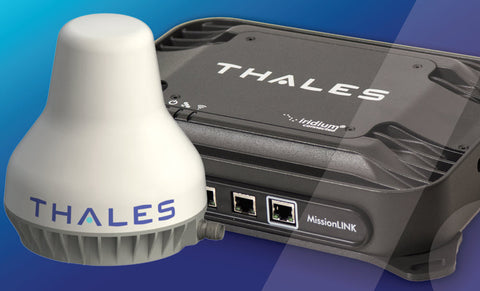 Iridium
Thales MissionLINK Iridium Certus 200 Satellite land mobile or fixed site ESChat PTT
---
MissionLINK Iridium Certus 200 satellite telephone system for land mobile or fixed site installations.
The Thales MissionLINK provides global terrestrial communications coverage, anywhere in the world. Unaffected by weather or landscape, it is the solution to depend on for essential communications wherever your mission takes you. Whether you operate as part of a deployed force or a single individual, this solution is designed to meet your unique challenges through a simple, adaptable and robust design. MissionLINK operates using Iridium Certus broadband services over a network of 66 satellites that cover 100% of the globe. The solution utilizes this robust network service to provide highly reliable, mobile and essential voice, text and web communications for fixed sites and mobile users. 
Includes Thales transceiver with 10-32V power cable, Thales user manual, Thales MissionLINK 200 antenna, 316 stainless steel antenna mount and 50 foot main antenna coax cable.
–

 

Wide Range of Marine & Land Applications

Certus 200 Services (176 kpbs Up/Down)
100% Global Satellite Coverage and Low Latency for Critical Data and Voice Communications
Satellite to Land Mobile Radio Extendable Network Through a Unique Radio Gateway
Easily Integrates Terrestrial Cellular with Built-in Preferred Routing Switch
October 14 2022
Thales, in partnership with ESChat, is now offering Push-to-Talk (PTT) over satellite for customers worldwide.
Thales has expanded its footprint in satellite communications by providing a Push-to-Talk service that operates anywhere in the world as a result of the ThalesLINK on Iridium Certus L-band product series.
Users that have purchased ThalesLINK solutions, such as Thales MissionLINK or Thales VesseLINK 200 and 700 systems, can now access a reliable low-latency PTT solution.
 Antenna mount for the MissionLINK antenna
All 316 stainless steel antenna mount & 316 stainless mounting hardware
White powder coated
Vertical or horizontal mounting positions
USA Made
ACCESSORY
Ruggedized MCOM1 deluxe hard case, for either the Thales MissionLINK 200 or VesseLINK 200 system.   Click here
SCADA/M2M
▪ Container/Asset Tracking
▪ Environmental
▪ Sensor Data Collection
▪ Network/Saturation diversification
▪ Set it, and forget it
Perfect VSAT Companion

▪ SDF capability
▪ Preferred routing
▪ OBM
Hard case with optional router for cable entry. For use with case lid closed.
Thales SureLINK handset additional cost
---
Share this Product