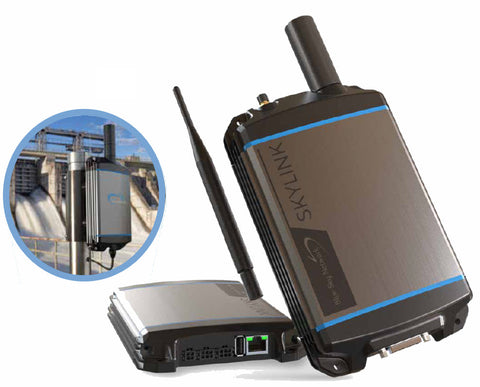 ASE
SkyLink Cloud Services Iridium Certus IoT/M2M Solution satellite & cellular
---
THE IRIDIUM CERTUS ADVANTAGE
Blue Sky Network's Skylink solution is powered by the Iridium network, which enables enterprise-grade voice, remote monitoring and data management. Paired with its Global Line of Sight service, Iridium enables reliable coverage for unmanned vehicle systems anywhere in the world. Additionally, within the SkyLink hardware, the Iridium Certus 9770 module serves as an embedded technology for continuous pole-to-pole coverage. The Iridium Certus 9770 provides low-latency and weather resilient connectivity using Iridium's truly global Low Earth Orbit (LEO) architecture of 66 cross-linked satellites.
Download SkyLink brochure, click here 
Key SkyLink Features:
A complete

 

cloud-based

 

user portal and

 

small-form

 

hardware solution
Dual-mode

 

(satellite & cellular) technology for remote and semi-remote operations
Command & Control for BVLOS

 

with Iridium's Global Line of SightSM

 

coverage
Legacy serial

 

device

 

connectivity

 

via RS232
Dynamic firewall for multiple

 

app configurations

 

and automation 
SkyLink Cloud Services is a performance-driven, cloud based analytics platform for remote, mobile and global operations. This system leverages Iridium's award-winning satellite technology and Global Line of Sight coverage, plus local GSM/LTE networks to create powerful, dual-mode managed network solution unlike any other.
Designed for you as Infrastructure as a Service, the SkyLink Cloud Services solution is specifically engineered to capture and disseminate mission-critical information and display it in a secure online portal. Using RS232, connect legacy sensors to the cloud for complete visibility of your assets. Customizable reports, activity alerts and dashboards work around the clock, making sure important details are recorded in real-time, anytime and anywhere in the world.
---
Share this Product