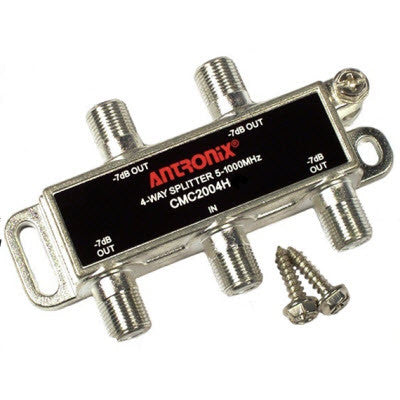 Antronix
4 Way Splitter Antronix 1Ghz
---
Antronix P/N CMC2004H 4-way coax Cable TV splitters series are designed with the highest electrical and mechanical performance. The Antronix coax cable splitters are the perfect cable splitters for digital and cable tv applications. Antronix cable TV splitters are the finest cable tv cable splitters manufactured Antronix cable TV splitters offer full 1 GHz bandwidth. Antronix
proprietary cable TV splitters ferrite core material to provide ultra linear performance that is consistent from ferrite to ferrite. Excellent RF performance. The Antronix cable TV splitter housing and back plate are zinc alloy to eliminate rust and corrosion.

Fully soldered-back cable TV splitters for optimal RFI. Machine threaded "F" port cable TV splitters. Surface-mount technology cable TV splitters. Premium component cable splitters. Low distortion prevents harmonics from appearing in the forward path due to high-level return path signals. Capacitively coupled "F" ports to prevent hum modulation from subscriber locations and RF distortion. Surge resilient to withstand high surge voltages. High port to port isolation cable TV splitters.Excellent return loss cable TV splitters. Optimized return loss and isolation in the return frequency band to support stringent multimedia transmission.
---
Share this Product