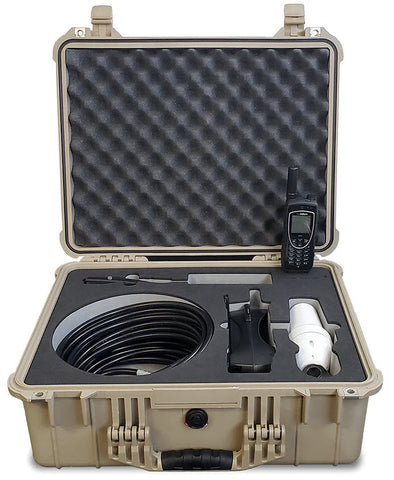 ASE
ASE-9575A-TOCKIT1 for Iridium 9575A DISA Handset & ASE 9575A-HQ-DOD Docking Station
---
Description
  The 9575A TOC Box Kit. We can also integrate your existing 9575A satellite phone, or other custom Internet of Things (IoT) requirements, into our Pelican hard case.
 The ASE 9575A-HQ-DOD Docking Station works with General Dynamics' DOD security module 2 and Enhanced Mobile Satellite Services (EMSS) for global voice, data, and paging capabilities. The docking station also enables easy integration into your existing Plain Ordinary Telephone Service (POTS). Its small form factor and easy wall mounting make for easy integration into your spaces.
    Click here for ASE TOCKIT Pelican hardcase brochure
    Click here for brochure ASE DOD Dock 9575A
Features
A rugged, grab-and-go 9575A communications kit.
Tough, military-grade design
Pelican 1550 hard case
9575A battery life up to 15 hours, 2 hours talk time
100% global coverage, including the poles
Ruggedized Pelican case stores all accessories
DOD compatibility with Iridium Security Module 2
Speaker 
Simple set-up and troubleshooting
24/7 global customer support
Specifications
Operating Voltage:

 

10 – 32 VDC
Power Consumption:

 

12 watts (active peak)
AC Mains:

 

115/230 VAC 50/60Hz to 24 VDC; adapter provided
Antenna Connections:

 

Iridium TNC-F; GPS SMA-F
Operating Temperature Range:

 

14F to 131F / -10C to 55C
Dimensions:

 

20.66 x 17.20 x 8.40 in / 52.5 x 43.7 x 21.3 cm
Weight:

 

16.4 lbs / 7.4 kg
Portable:

 

Ships USPS, FedEx, or in-flight luggage
Part number:   ASE-9575A-TOCKIT1
Pictured with optional 9575A Iridium satphone and HA-87 accessory handset
Integrate Your 9575A Satellite Phone
The 9575A satellite phone offers unmatched pole-to-pole coverage and a rugged, ergonomic design for the most demanding government and military customers.
---
Share this Product