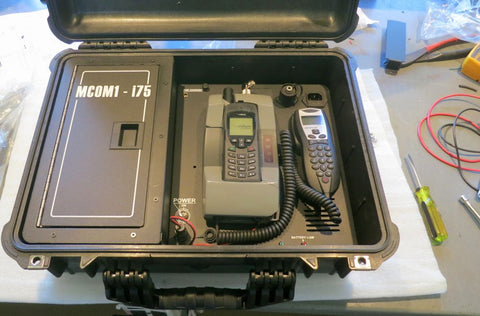 MJ Sales, Inc.
Iridium Flyaway Kit MCOM1 i75 for ASE 9555 & 9575 Iridium Docking stations
---
The MCOM1 i75 is compact, ruggedized Fly Away Iridium 'Go Kit'  in a Pelican 1540 hard case. The MCOM i75 is designed around ASE's Iridium model 9555 and 9575 docking stations.
Our flyaway kit will work with either of ASE's 9555 or 9575 docking station.
Supports Iridium 9555 & 9575 Handheld Satphones
Easy office integration with the POTS system (additional equipment required)
Wide range input power 10-32VDC
ac/dc adapter
dc cigarette power cable
The MCOM1 i75 Go Kit includes:

Pelican case with ample storage. Designed for ASE's 9555 & 9575 docking stations.
120W MCOM1 dual purpose AC-DC power supply & LiFeP04 battery charger
Internal Battery Charge Controller 
12V DC MCOM1 cigarette power cable, 6 foot
Ultra Flat 8Ah 12 volt, MCOM1 LiFePo4 battery
10 'Ultra Flexible' MCOM1 antenna coax extension cable
Aero Antenna with magnetic base & 15 foot coax cable
Ballastic Nylon storage bag attached to outside lid of case
Accessories for the MCOM1 i75 Fly away kit:
20 'Ultra Flexible' MCOM1 antenna coax extension cable
12V DC battery clamps power cable, 6 foot
Side panel cabling access, 4 x hinged protective entry covers
Ultra flat, high capacity, 23Ah 12 volt, MCOM1 LiFeP04 battery
NATO Plug, 24VDC MCOM1 power cable, 15 foot cable length
Foldable Solar panel & cables 'tuned' for charge or powering the kit or dock
ASE 9555 Docking stations
ASE 9575 Docking stations
---
Share this Product