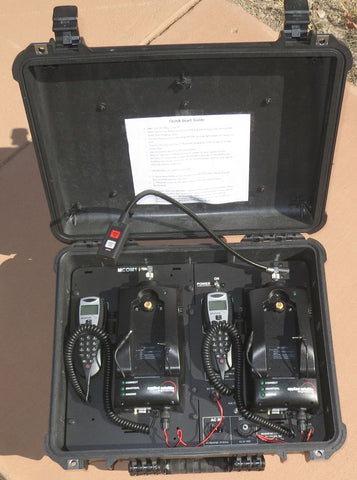 MJ Sales, Inc.
MCOM1 i Iridium Flyaway kit for ASE Docks
---
Delivering a Tactical Advantage
The MCOM1 i Iridium Go Kit. A rugged, self contained Pelican hard case that can house two ASE Iridium Docking Stations, or one 4-Bay Iridium battery charger and one ASE Iridium Docking Station! Often referred to as a Grab & Go Kit or fly away kit.
The MCOM1i Go Kit pictured includes at an additional cost, two ASE 9505A DOD Docking Stations installed, and two optional Iridium DPL handsets.  ASE offers a 2-wire interface, RJ11 output. The MCOM1 i To Go Kit can also accommodate ASE'S Iridium 9555 & 9575 / 9575 PTT Docking Stations. Grab N Go. Comms-on-the-Go!
For approved US Government customers only.
Unlimited airtime — all you pay for is any new hardware
Unlimited usage. Unlimited devices.
No airtime costs.
Take advantage of a first-of-its-kind fixed-price contract between the US government and Iridium for secure, reliable, global communications solutions.
No other company can help mobilize and monitor personnel, data and assets on-the-ground, beyond line-of-site and out of reach of terrestrial communications infrastructure — anywhere on the planet.
Iridium and the Defense Information Systems Agency (DISA) have signed an agreement that provides Enhanced Mobile Satellite Service (EMSS) with unlimited usage for an unlimited number of subscribers on Iridium devices offering global voice, data, paging, short burst data (SBD) and Netted Iridium® (DTCS) services.
The EMSS program maximizes use of both your new and existing Iridium-provisioned devices by providing:
Unlimited airtime — all you pay for is any new hardware
Secure voice (National Security Agency Type 1 Encryption) and prioritization
100% global coverage
DTCS netted communications
A dedicated EMSS gateway for security and management
24/7/365 EMSS Customer Care for provisioning and help desk support
Clear upgrade path to Iridium NEXT advanced capabilities
Iridium provides military services and government agencies with reliable, durable and truly global communications. With this fixed-cost program,
there are no monthly bills regardless if 10 or 10,000 devices are purchased – so the more Iridium-provisioned devices used, the better.
---
Share this Product