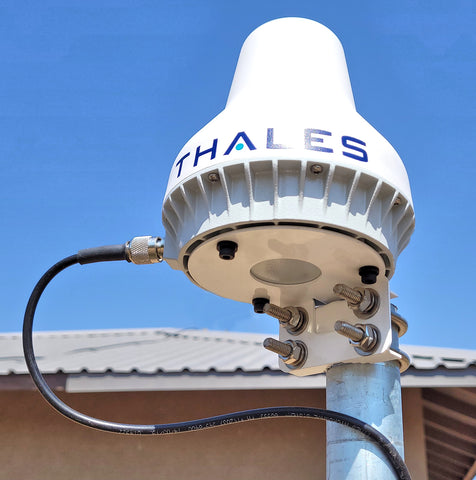 MJ Sales, Inc.
MissionLINK 200 antenna pole mount for Thales Certus 200 fixed site installations ESChat
---
Fixed mast, antenna pole mount for Thales MissionLINK 200 antenna.
For both Thales Low Gain Antenna MF200BV antenna, MissionLINK or VesseLINK antennas.
316 stainless steel material and hardware.
White powder coat finish.

Installation using vertical or horizontal mast / pipe / railing.

Alternate mount for Thales 1100855-503 Premium L-Bracket pole mount.
Part No. MCOM1 M200 MOUNT
   Click here to view Thales VesseLINK 200 brochure


October 14 2022
Thales, in partnership with ESChat, is now offering Push-to-Talk (PTT) over satellite for customers worldwide.
Thales has expanded its footprint in satellite communications by providing a Push-to-Talk service that operates anywhere in the world as a result of the ThalesLINK on Iridium Certus L-band product series.
Users that have purchased ThalesLINK solutions, such as Thales MissionLINK or Thales VesseLINK 200 and 700 systems, can now access a reliable low-latency PTT solution.
Thales Defense & Security, Inc. Broadband Land Mobile Certus Satellite Terminal and Low Gain Antenna MF200BV
---
Share this Product